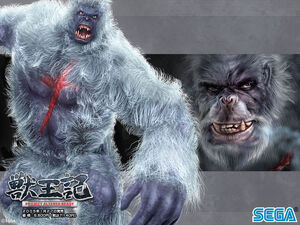 Wendigo Is a New beast That Appeared In Project Altered Beast. He is a playable beast.
The Wendigo Chip Can be obtained after defeating Sasquatch. Once obtained, the Wendigo is unlocked and can be used at any times.
Appearance
Edit
The Wendigo is bigger in size compared to the rest of the beasts. Covered in white fur and a lot of muscle mass, The Wendigo Very much Resembles a Yeti Rather than an Actual wendigo.
Abilities
Edit
The Wendigo bears the element of Ice, giving it the ability to command the cold and can even freeze enemies in their tracks. He can Also Lift up Heavy Objects such as boulders and cars.
Ice Boulders:
Freeze Breath:
Ad blocker interference detected!
Wikia is a free-to-use site that makes money from advertising. We have a modified experience for viewers using ad blockers

Wikia is not accessible if you've made further modifications. Remove the custom ad blocker rule(s) and the page will load as expected.